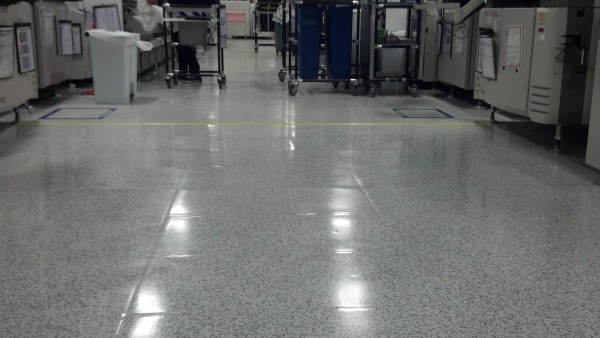 AVON, MA…
SelecTech, Inc., a leader in the manufacture of innovative flooring products from recycled materials, recently started an automotive division for automobile manufacturers clients. Based out of the company's corporate headquarters in Avon, Mass., the new division will feature customer service and marketing representatives specifically dedicated to serving automotive customers.
"In manufacturing, particularly the automotive industry, production is everything. Any down time for floor installation or replacement costs tens of thousands of dollars. Our flooring employs a breakthrough interlocking technology that makes replacement and installation a breeze, with no messy adhesives or disruptive downtime," said Thomas Ricciardelli, president of SelecTech, Inc. "With our new division, we not only provide a product that virtually eliminates down time but we can coordinate installation schedules to avoid any disruption."
In addition to ease of installation, SelecTech floor products are made from 70 percent recycled materials and are 100 percent recyclable.
"The automotive industry has gone to great lengths to explore new technologies to lessen its carbon footprint," said Ricciardelli. "For manufacturers looking for ways to show their commitment to a greener way of doing things, recyclable flooring is certainly a step in the right direction."
Another benefit to its automotive division includes SelecTech's anti-static flooring products, specifically its FreeStyle ESD products. This type of flooring is typically used by industries that utilize electronics and sensitive data like electronics manufacturing, communications, aerospace, biotech and healthcare. As manufacturers rely more and more on computer technology, anti-static flooring can provide a safeguard for sensitive data.
The Continental Automotive Group is one automotive manufacturer benefiting from SelecTech flooring products. Currently, SelecTech flooring products are used at its Seguin, Texas plant.
To learn more about SelecTech's automotive division and other SelecTech products, visit http://www.selectechinc.com.
About SelecTech, Inc.
SelecTech, Inc. was founded in 1993 with the mission of creating valuable products from scrap plastics. The company has become a leader in the manufacture of flooring products from recycled materials and uses one million pounds of recycled materials annually. Their products are made with up to 100 percent recycled content, are 100 percent recyclable and installed without adhesives making them some of the "greenest" and most cost-effective flooring products available. The unique interlock system on SelecTech's flooring products enable them to be installed at a much lower cost, without a lot of costly downtime, which provides significant value to customers.
Using state-of-the-art technology and innovative product design, SelecTech created the top performing Place N' Go residential flooring products, which are available at Home Depot. They are also the creators of the renowned commercial and industrial FreeStyle, FreeStyle ESD and StaticStop ESD flooring lines.
SelecTech is a vendor partner of Health Care Institute, an International Facility Management Association (IFMA) alliance partner. The company is headquartered at 33 Wales Avenue, Suite F in Avon, MA. For more information about SelecTech, visit http://www.selectechinc.com.