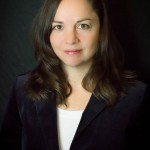 Betsy Vallone, Investment Advisor and Certified Financial Education Instructor (CFEI), joins her husband, Steve Daglio, at their financial services firm, Essential Asset Management (EAM) in Norwell, MA.
Ms. Vallone, a Norwell resident and co-owner and principal of EAM, is returning from maternity leave to take an active role in the firm as an Investment Advisor and educator. Ms. Vallone will provide clients with tailored financial advice and services based on their specific goals, concerns, and requirements. She will also lead financial education workshops that are focused on women and investing, which will cover the fundamentals in financial planning and more.
"Essentially, we help local families achieve financial security for their retirement years. We also provide specialized advice and services to women and others who are impacted by sudden wealth or other significant life-changes such as divorce, a new job or a new baby," explained Ms. Vallone.
A seasoned Investment Advisor with nearly a decade of experience, Ms. Vallone holds Series 65 and Life, Accident and Health insurance licenses and has certification as a financial education instructor from the National Financial Educators Council. She received a Bachelor of Arts in Economics from Fairfield University in Connecticut and has continued graduate studies at Bentley University. She is currently a Certified Financial Planner (CFP) candidate and will sit for the CFP exam in July 2016.
Ms. Vallone's vast experience includes serving as a Financial Planning Consultant at Fidelity Investments and as a Retirement Consultant at TIAA-CREF, to working in high tech at Oracle and Hubspot before leaving the corporate world to run her own successful dog training business.
She is a member of the South Shore Women's Business Network.
To learn more about EAM or to schedule a consultation with the husband and wife financial services team, visit  www.essentialassetmanagement.net.
About the Firm
Founded in 2011, Essential Asset Management (EAM) provides a full array of planning and investment related services to meet clients' specific needs and goals. From portfolio management and retirement planning, to estate planning and tax efficient investing, the firm's investment advisors work closely with clients, engaging and encouraging ongoing feedback, in the creation of a holistic financial plan. Steve Daglio and Betsy Vallone are co-owners, principals, and partners of the fee-based investment advisory firm serving families and individuals throughout the South Shore. The husband and wife team have a combined 26 years of experience working in financial services, providing investment strategies for individuals, small businesses, institutions, and even other financial advisors.
Essential Asset Management, LLC is located at 167 Washington Street, Norwell, MA 02061. For more information, visit  www.essentialassetmanagement.net.
__________________________________________________________
Investment Advisory Services offered through Bay Colony Advisors, a Registered Investment Advisor. Clearing, custody or other brokerage services provided by Fidelity Brokerage Services, LLC. Members NYSE, SIPC.  Office of supervision: 91 Main Street Suite 308 Concord, MA 01742. Phone 978-369-7200. Steven Daglio and Betsy Vallone are Investment Advisor Representatives of Bay Colony Advisors.  Advisory Services offered to residents of: Connecticut, Florida, North Carolina and Massachusetts. Bay Colony Advisors and Essential Asset Management, LLC are not affiliated.