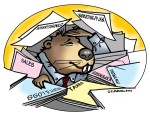 On Ground Hog Day, Wednesday, February 2, the South Shore Ad Club is holding an expo to help businesses emerge from the shadow. The Advertising/Marketing Expo will be run from 8:30 – 1 p.m. at the Holiday Inn, 929 Hingham Street (Route 228), Rockland.
The event kicks off with a complimentary Continental breakfast from 8:30 – 9:30 a.m. The exhibit hall, featuring advertising service providers and other business services, will also open at 8:30 a.m. More than 40 exhibitors will share the latest in advertising/marketing tools and techniques.
"The Ground Hog Day expo is intended to nudge regional businesses out of a 'recession' mentality and into a proactive mindset," noted Steve Dubin, founder of the South Shore Ad Club, an organization that includes a wide range of advertising and marketing professionals. He added, "We are looking forward to creating an optimistic outlook and providing the tools to realize that vision."
Exhibit/booth space is limited. Exhibitor fee is $99 and includes a six foot banquet table, wireless Internet access, electrical outlet and table skirts.
About The South Shore Ad Club
The South Shore Ad Club is a non-profit organization committed to the personal and professional development of communications professionals located south of Boston. It's the club's  mission to improve, strengthen and advance career goals through learning and networking opportunities; and to serve as a resource for local and Boston-area businesses  requiring marketing, advertising, public relations and/or communications services.
To reserve booth space, contact Steve Dubin, SDubin@PRWorkZone.com, (781) 582-1061. Or visit www.SouthShoreAdClub.com.