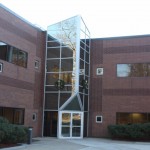 Geocomp Corporation,
has relocated
their
headquarters from 1145 Massachusetts Avenue in Boxborough to 125 Nagog Park in Acton, MA.
01720. 
Established in 1982, Geocomp is a global leader in geo-engineering, having developed some of the most technologically advanced products and solutions available for management of the risks related to large civil construction and infrastructure projects.
Geocomp has experienced significant growth over the last several years and their new Massachusetts location will enable them to accommodate expected growth.
"We have an ambitious five-year growth strategy and we're delighted to have found an ideal space that will expand our capacity in consulting, laboratory services and products manufacturing," noted Dr. Allen Marr, President and CEO.
Geocomp purchased the three story building at Nagog Park which was custom built for Digital Equipment Corporation about 20 years ago. The building is 73,000 square feet and it has been renovated to suit Geocomp's needs. Each floor is approximately 24,000 square feet. GeoTesting Express (Geocomp's Testing Division), and Laboratory Products Division will occupy the first floor and the Company's Consulting and Corporate offices will occupy a majority of the second floor.
Geocomp will lease approximately 24,000 square feet of Class A office space to tenants on the second and third floors.
About Geocomp Corporation
A privately held Company, Geocomp has been at the center of many challenging projects around the world, including: Boston's Big Dig; New York's Eastside Access project; the World Trade Center and 2nd Ave subway; the Metro subway in Athens, Greece; the Woodrow Wilson Bridge in Washington, D.C.; and the Tonen Refinery in Kawasaki, Japan along with hundreds of other projects for clients in transportation, (bridges, highways, tunneling), mining, water/wastewater, environmental, energy, power (fossil fuel and nuclear) and education.
Geocomp's geo-engineering expertise provide clients with a comprehensive understanding of underground conditions and potential hazards to effectively minimize the risks of: worker and public safety; costly project delays; and damage to adjacent structures, especially on complex projects with challenging soil-structure conditions.
An industry leader in the Instrumentation and Monitoring of large civil projects, Geocomp integrates its web based, real-time, monitoring platform, iSite CentralTM into its Active Risk ManagementTM protocols – reducing risk over the entire project life cycle. It couples this expertise with predictive modeling; an in-depth expertise in innovative construction materials; and foundation and earth support system design, to tackle the toughest infrastructure challenges.
In addition to their new Massachusetts location, Geocomp has locations in New York, Atlanta and San Francisco and Peru, which enables it to support clients worldwide.
For additional information about Geocomp –visit the website at www.geocomp.com
Or contact Don Jacobs, Director of Client Development, (978) 635-0012 or email at djacobs@geocomp.com
To inquire about the lease of available space, contact Lynne Lawson, Corporate Controller at – (978) 635-0012 or via email at llawson@geocomp.com.