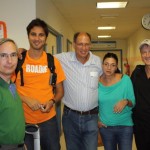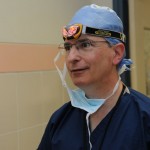 Dr. Richard F. Eisen, Board Certified Dermatologist and Founding Physician/Director of South Shore Skin Center and Spa has recently returned from a mission trip to Trujillo, Peru with the Global Smile Foundation, where he assisted in cleft lip and palate surgical procedures on 42 children of the region.
According to Dr. Eisen, "There is little access to surgical care in the northern mountain regions of Peru and because of this, many children in need of cleft lip and palate repairs remain untreated. The goal of Global Smile Foundation is to alleviate the suffering of underserved patients born with facial congenital deformities."
The non-profit Global Smile Foundation partnered with EsSalud and Rotary Club of Trujillo to provide needed cleft care to underserved patients at the Hospital Victor Lazarte Echegaray.
Dr. Eisen completed the closures for the surgeons. Of the surgeries, 15 children received primary cleft lip repairs, 11 children received primary cleft palate repairs, 10 children received lip and/or nose revisions and six children had alveolar cleft repairs.
About Global Smile Foundation
The Global Smile Foundation is not-for-profit corporation headquartered in Lexington, MA. The founding members are a group of dedicated volunteers and medical professionals who have been actively involved with global outreach programs for the last 24 years in countries in Latin America, Africa and the Indian Subcontinent. The organization's doctors provide fragmented corrective surgical and dental procedures to patients born with cleft lip and palate deformities, and they also address the urgent need for implementing comprehensive care coupled with educational and preventive programs. For more information, visit their website at www.gsmile.org.
About South Shore Skin Center and Spa
South Shore Skin Center and Spa is one of Massachusetts' most progressive dermatology practices offering a wide range of medical, surgical and cosmetic services.
Founded in 1984, South Shore Skin Center and Spa is a unique team of physicians, physician assistants, nurses, medical assistants, surgical assistants, and licensed estheticians who are all specialists in dermatology and share a passion for excellence and a commitment to providing the highest level of care to both children and adults in the greater Boston area. In addition to the medical dermatology office and Mohs Surgical Unit for skin cancer, South Shore Skin Center and Spa offers cosmetic dermatology treatments for wrinkles, age spots, acne scarring, birthmarks, hair removal, tattoos and more using the Fraxel re:store DUAL and Fraxel re:pair lasers, DEKA SmartXide DOT, Candela VBeam, Gentlelase, Gentle YAG, and Alex lasers. The practice also offers a full range of affordable anti-aging services including Botox, Restylane, Perlane, Juvederm and other wrinkle fillers; volumizers such as Radiesse and Sculptra; microdermabrasion; medical grade facials, micropeels and chemical peels.
South Shore Skin Center and Spa is located at One Scobee Circle, Unit 3, in Plymouth, Mass. (508) 747-0711 and at 223 Chief Justice Cushing Highway, Suite 202, in Cohasset, Mass. (781) 383-3340. For more information, visit the website at www.southshoreskincenter.com.