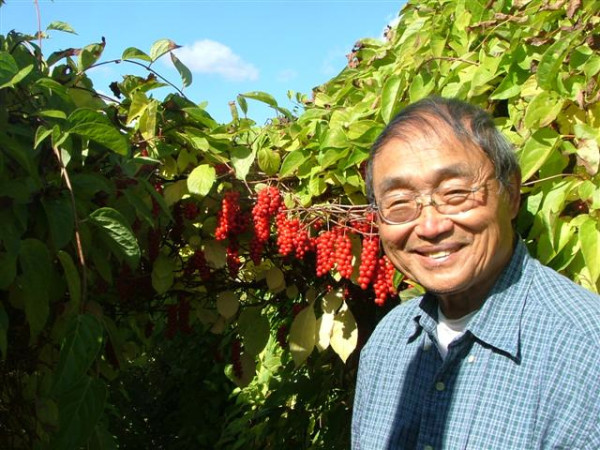 WHATELY, MA…
Dr. Chang's Farm, located in Whately, Massachusetts, recently received its recertification from the United States Department of Agriculture's Organic Program for its schizandra berries. The recertification means that schizandra berries grown at Dr. Chang's Farm continue to meet the requirements of the USDA's national organic program.
"Organic" has become one of those buzz words that's become trendy in years, sort of like the word 'green'. Unfortunately, more than a few growers and marketers have called their crops and ingredients 'organic' without having gone through the process of certification in compliance with the USDA's national organic standards. This USDA program officially defines what is organic and what is not," said Steve Dubin, a spokesman for Chang's Naturals, a division of Dr. Chang's Farm that grows and wholesales their certified schizandra berries. "Given that millions of consumers today are looking for pesticide- and herbicide-free foods and supplements, complying with these standards is a top priority at Dr. Chang's Farm."
More specifically, to be recognized as an organic grower by the USDA, farms must produce their crops using national organic program-approved methods that integrate cultural, biological and mechanical practices that foster cycling of resources, promote ecological balance and conserve biodiversity. Use of synthetic fertilizers, sewage sludge, irradiation, and genetic engineering (GMOs) are strictly prohibited.
Organic certification is indicative of the farm's practices since its inception in the mid 1970s when Dr. Chang began to grow fresh Chinese vegetables for his award-winning restaurant, Amherst Chinese Food. Dr. Chang has been a long-time practitioner of pesticide and herbicide-free farming. He has also utilized other earth-friendly techniques such as soil remineralization where by spraying rock dust on crops the farm has been able to consistently produce nutrient-dense food.
Dr Chang's early commitment to these growing techniques has firmly established his farm as a leader in the movement towards density-rich foods. These include schizandra berries, Chinese vegetables sold his award-winning restaurant, Amherst Chinese Food, and the bean sprouts grown at the state-of-the-art facility located at Dr. Chang's Farm. This ultra-modern facility produces hundreds of thousands of pounds of mung and soy sprouts every week.
In addition to being organic, Dr. Chang's Farm's lays claim to being the only commercial grower of schizandra berries in North America.
These super-healthy berries are rapidly becoming known throughout the U.S.  Recently featured on national television shows like Dr. Oz, people are becoming more and more aware of the word "adaptogen".  This term has been applied to certain botanicals capable of bringing balance to the body. In short, it helps 'adapt' to what the body needs at the moment. One person may need energy, another stress relief. An adaptogen helps both by assisting the body to reach its optimum level of health and well-being – a state referred to by science as 'homeostasis'.
Whether it's in its whole berry form, beverage or powder, schizandra berry supports healthy energy, vitality, cell function, calming relaxation, mental clarity, stamina, immunity, detoxification, reproduction and digestion.
"Nowadays, millions of people are looking towards natural, holistic solutions rather than prescription drugs," said Dubin. "USDA Organic Certification assures these consumers they can trust Dr. Chang's Farm to give them the best schizandra berries in the world."
Dr Chang Naturals grows and wholesales their certified organic schizandra berry powder worldwide. Consumers and retailers can learn more about this powder, and how to buy it, by contacting the distributor Lucidera at www.organicschizandra.com.  You can also order of a glass of fresh schizandra berry juice at Dr. Chang's restaurant. Amherst Chinese has offered this for over 18 years and remains the only place in America, and perhaps the world, where you can find this healthy beverage on the menu.
For more information about Chang's Naturals, you can visit http://www.organicchiberry.com.