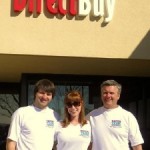 Jim Biberston, franchise owner of DirectBuy of Albuquerque, his son Ryan, and daughter-in-law Brianna (who also both work at the club) are training to participate in the Jay Benson Triathlon on May 9, 2010, at the Kirtland Air Force Base in Albuquerque, New Mexico. But they're not just participating in the Triathlon for their own health and wellness; the Biberstons are a part of Team In Training, an organization that fundraises to support research to find cures for leukemia, lymphoma, and melanoma. The team's funds raised from the Jay Benson Triathlon will be donated to The Leukemia and Lymphoma Society.
"DirectBuy strives to be a leader in the community by acting as a promoter of change and by helping those in need," said Jim Biberston. "I see this event as an opportunity to support the local chapter of Team In Training and, through them, the larger movement in the fight against blood cancers across the United States." Biberston is one of 160 DirectBuy club owners and managers who actively participate in their local communities, supporting such organizations as The Boys and Girls Clubs, the Salvation Army, the YMCA, Homes for our Troops, and children's hospitals, as well as many others.
 "I was initially contacted by "Be the Match Foundation" as a possible bone marrow donor to someone who is fighting Leukemia, and I'm currently in the process of doing so," said Ryan Biberston. "We then decided to take it a step further and are competing in this event in honor of all individuals who are battling blood cancers. They are the real heros, and we need all the support we can get to cross the ultimate finish line – finding a cure!"
"Our goal as a family is to raise $4,500 before May 9, 2010," said Brianna Biberston. "The more people we reach, the more lives we touch, the closer we come to a cure." To support the Biberstons in their fight against blood cancers, you can visit their team website at http://pages.teamintraining.org/nm/jaytri10/jbiberston.
Since opening in 2004, DirectBuy of Albuquerque has helped consumers enjoy enormous savings on home furnishings, home improvement items, entertainment and outdoor products, flooring and accessories, by providing an avenue to purchase directly from manufacturers or their authorized suppliers. Conveniently located at 5500 Wilshire Avenue Northeast in Albuquerque, DirectBuy Club offers consumers a comfortable setting where members finally have the financial control of buying direct.
About DirectBuy Club
Consumers interested in joining DirectBuy are encouraged to attend an exclusive Open House event, which is designed to educate families about DirectBuy's business model and the benefits of buying direct. The Open House also helps consumers better understand how DirectBuy members avoid traditional retail markup when purchasing brand-name merchandise.
Since 1971, DirectBuy Club has been showing hundreds of thousands of consumers unparalleled ways to save as they shop for virtually everything for in and around their homes – from furnishings, home improvement and flooring, to entertainment and outdoor products, accessories, and much, much more. With more than 150 locations in North America, DirectBuy offers its members access to more than 700 brand-name manufacturers or their authorized suppliers in the United States, and more than 500 in Canada.
For more information on a DirectBuy Club membership, visit http://www.directbuycares.com.
Consumers interested in seeing DirectBuy Club's savings, service, and selection up close may obtain a Visitor's Pass to attend an Open House by visiting www.directbuy.com or www.directbuycares.com.