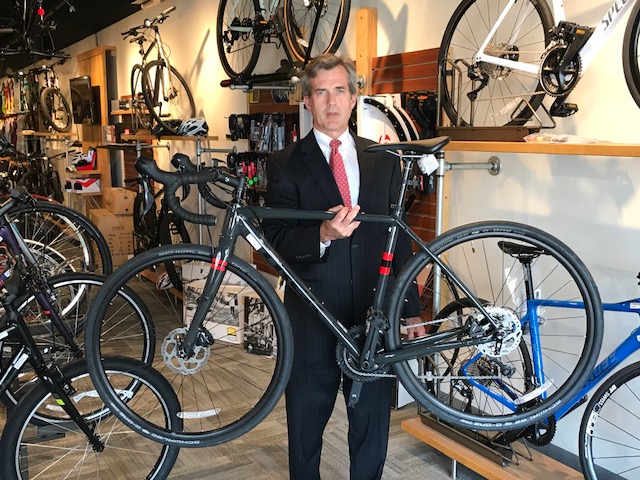 Chris Downey, president of Braintree-based Harbor Mortgage Solutions is set to ride with his team in Pan-Mass Challenge (PMC) 2019 on August 3 and 4, 2019.
This is Downey's third year riding the PMC annual bike-a-thon that raises money for life-saving cancer research and treatment at Dana-Farber Cancer Institute. Downey will be part of Team WillPower, which was formed in 2017 as a tribute to a great friend, John Willett, who passed away in 2016 after a courageous battle with cancer. In 2017, their community lost two more amazing people to cancer, Steve Lenhardt and David Gardner. The tragic loss of Lenhardt, Gardner and Willett has only reinvigorated their team to help fund the cure for cancer, so that families do not have to endure such sadness and loss in the future.
In 2018, Team WillPower raised $125,000 in donations to PMC, and their goal is to raise the same amount this year. The team of 13 will be riding a total of 163 miles from Wellesley to Provincetown, in honor of their Pedal Partner, Charlie, a five-year-old boy from Cohasset who is currently going through cancer treatment.
Downey has been training every week on team rides. Currently, Team WillPower bikes approximately 45 miles per ride, and this will soon increase as they approach the event date.
"Most everyone has their own personal experience with cancer in some manner," said Downey. "My wife Celia recently celebrated her 12th year of remission from breast cancer. We are very fortunate and owe much to this incredible community that was able to cure her. To that end, the Pan-Mass Challenge is the most well-run and efficient means of fundraising I know of, and every rider-raised dollar goes to Dana-Farber Cancer Institute for cancer research and treatment."
Downey resides in Norwell, MA.
To make a donation to Team WillPower, visit https://profile.pmc.org/CD0269.
About the PMC
In 2018, the PMC gift to Dana-Farber was $56 million. The PMC donates 100 percent of every rider-raised dollar to Dana-Farber Cancer Institute. For more information about PMC, visit https://www.pmc.org
Harbor Mortgage Solutions, Inc. is a family-owned, residential mortgage company serving Massachusetts and Rhode Island. Recognized as a leading housing wealth management authority, Harbor Mortgage is dedicated to serving the unique home financing and often complex needs of senior homeowners, while also promoting those needs among consumers, professional advisors, state legislators and industry regulators.
Harbor Mortgage (NMLS #2846, MA-MB2846, and RI 20041821LB) is located in Braintree, MA. For more information, contact 781-843-5553 or visit HarborMortgage.com.