Each year, the Boys & Girls Club of Marshfield, a youth development organization providing programs and services to children and families throughout the greater South Shore community, selects one exceptional Club member as "Youth of the Year" to serve as an ambassador for the Club's youth as well as a voice for all young people.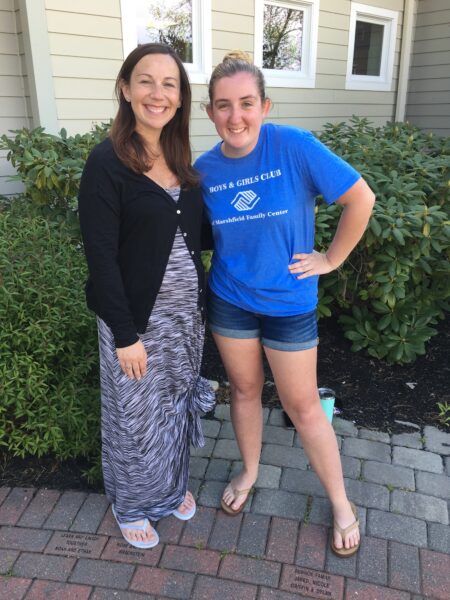 The Boys & Girls Club of Marshfield is pleased to announce Jessica Martin, a senior at Marshfield High School, has been named the 2020 Marshfield Youth of the Year.
Ms. Martin has been a member of the Boys & Girls Club of Marshfield for 10 years. Over the last four years, Ms. Martin has held the role of Afterschool Staff/Summer Camp Counselor at the Club, where she wears "a number of hats" taking on duties ranging from helping with homework to supervising the Games Room. In September 2019, Ms. Martin became the President of the Keystone Club, and has since planned a variety of successful fundraisers.
Outside of the Club, Ms. Martin has served as After School Program staff for Marshfield Recreation Department. For the past six years, she has taught Pre-school and Kindergarten CCD as an assistant teacher at her church. In 2016, Ms. Martin received the Library Volunteer of the Year award from Furnace Brook Middle School for having the most volunteer hours, and in 2018, she received the National Honor Society award. A dedicated volunteer, Ms. Martin has volunteered 95 hours over the past 12 months to the Boys & Girls Club and the community.
As Youth of the Year, Ms. Martin will continue to spread awareness about the Club as a resource and its important role for youth and teens throughout the community. She has her sights set on becoming a teacher and intends to major in Elementary and Special Education at Endicott College in Beverly, MA in the fall.
"I can't imagine where I would be right now, as the Club has been my second home," said Ms. Martin. "The Club really played a significant part in my life after elementary school, as I was faced with new challenges. I look forward to starting college in the fall, but I will definitely return to the Club on break and continue to volunteer and give back to this amazing organization that has given me so much."
About Youth of the Year
Since 1947, Youth of the Year has been Boys & Girls Clubs of America's (BCGA) premier recognition program, celebrating the extraordinary achievements of Club members. Each year, one exceptional young person from a Boys & Girls Club rises to the role of National Youth of the Year. The National Youth of the Year serves as both an exemplary ambassador for Boys & Girls Club youth and as a strong voice for all of our nation's young people.
The journey to being named National Youth of the Year begins locally and progresses to state, regional and national levels, with an additional military phase for members of BGCA-affiliated Youth Centers on U.S. military installations.
The Election Process
There are a number of steps that must be taken prior to being named Youth of the Year at the Boys and Girls Club of Marshfield. Club staff members nominate several teens, who are then asked to write an essay on the "Club experience". The essays are read by staff and volunteers and four are selected. The top four candidates interview with a panel to discuss their essay, club impact and four areas of development – education, community service, leadership and family life. After the interviews, the panel and club leadership discuss and elect Youth of the Year.
Ms. Martin's next step is to advance to the State level and compete against 43 other teens from across the commonwealth. This virtual event will take place on June 18, 2020.
"Jessica has tremendous leadership ability and she is a wonderful role model," said Jim Bunnell, CEO of Boys & Girls Club of Marshfield. "It is our great pleasure to honor Jessica as the Boys & Girls Club of Marshfield's Youth of the Year. We wish her every success in the future."
About the Boys & Girls Club of Marshfield
The Boys & Girls Club of Marshfield's mission is to enable and inspire all young people to realize their full potential as productive, caring, responsible citizens as well as become tomorrow's capable leaders. The Club provides programming opportunities in the Boys & Girls Club of America's (BGCA) five core areas including leadership, education, health, arts, and fitness.
Currently, the Club serves hundreds of families with children ranging in age from 6 to 18 years old, providing afterschool, vacation week and summer programs, as well as youth athletics, teen, social recreational and leadership opportunities. For more information, visit their website https://www.bgcmarshfield.org or call 781-834-2582.