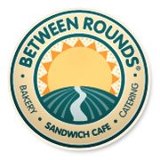 Between Rounds Bakery Sandwich Café, a growing fast-casual dining establishment with locations in Connecticut and Massachusetts, is set to offer their signature bagels, breakfast and lunch sandwiches at gas station convenience stores in Hartford County and beyond.
Between Rounds recently obtained a license to manufacture prepared foods, and will now wholesale their breakfast and lunch sandwiches to gas station convenience stores.
Currently, Between Rounds prepared breakfast and lunch sandwiches are available in the refrigerated section at the Gulf gas station convenience store in East Hartford. Between Rounds' selection ranges from their signature bagels and cream cheese to popular sausage, ham, bacon, egg and cheese breakfast sandwiches, turkey and cheese, ham and cheese sandwiches and more.
Renowned for their high-quality products, the family-owned Between Rounds has been serving up fresh, baked-onsite bagels and baked goods as well sandwiches, wraps, salads, soups and specialty coffees for more than two decades. Their locations include Manchester, South Windsor (corporate headquarters), Tolland and Vernon, CT as well as Southwick, MA.
"By expanding into prepared foods manufacturing, Between Rounds is targeting a 'grab and go' convenience market that extends well beyond our own stores," said Jerry Puiia, co-founder of Between Rounds.
Gas station and convenience store owners interested in Between Rounds wholesale products are encouraged to contact Jerry Puiia, (860) 291-0323.
About Between Rounds Bakery Sandwich Café
Founded in 1990, Between Rounds Bakery Sandwich Café is a unique bakery café and bagel shop renowned for their fresh, baked-onsite bagels and baked goods as well sandwiches, wraps, salads, soups, specialty coffees and a unique line of giftware. Between Rounds offers patrons an upscale, fast-casual dining experience with free Wi-Fi.
Between Rounds is also a wholesale bagel supplier to many independent grocers throughout the region. Between Rounds signature bagels are delivered to grocers fully baked so no additional labor is required of the bakery department.
Between Rounds locations include South Windsor, Vernon, Manchester and Tolland, CT and Southwick, MA. Franchise opportunities are available. Corporate headquarters are located at 19A John Fitch Blvd, Route 5 in South Windsor, CT. For more information about their unique franchise offerings, contact (860) 291-0323 or visit betweenroundsbagels.com.