Thanks to 150 participants swinging away in epic tennis and golf tournaments held September 15th in Plymouth, Type One raised over $60K in support of type 1 diabetes research and to assist those living with the disease.
Hingham, MA-based Type One has made an incredible impact toward their mission of funding research to cure type 1 diabetes (T1D) by supporting the Faustman Lab at Massachusetts General Hospital (MGH), while also helping provide scholarships to local children with type 1 diabetes to attend type 1 diabetes camp, and providing qualifying recipients with assistance for diabetes management and treatment.

Type One, a 501(c)(3) nonprofit organization held their first "Serving For The Cure!" tennis tournament on the indoor tennis courts at the Village Racquet & Fitness Club in Plymouth. The tournament was held in tandem with the organization's inaugural "Par For The Cure! Golf Tourney" held the same day at Crosswinds Golf Club, also in Plymouth. Both events sold out.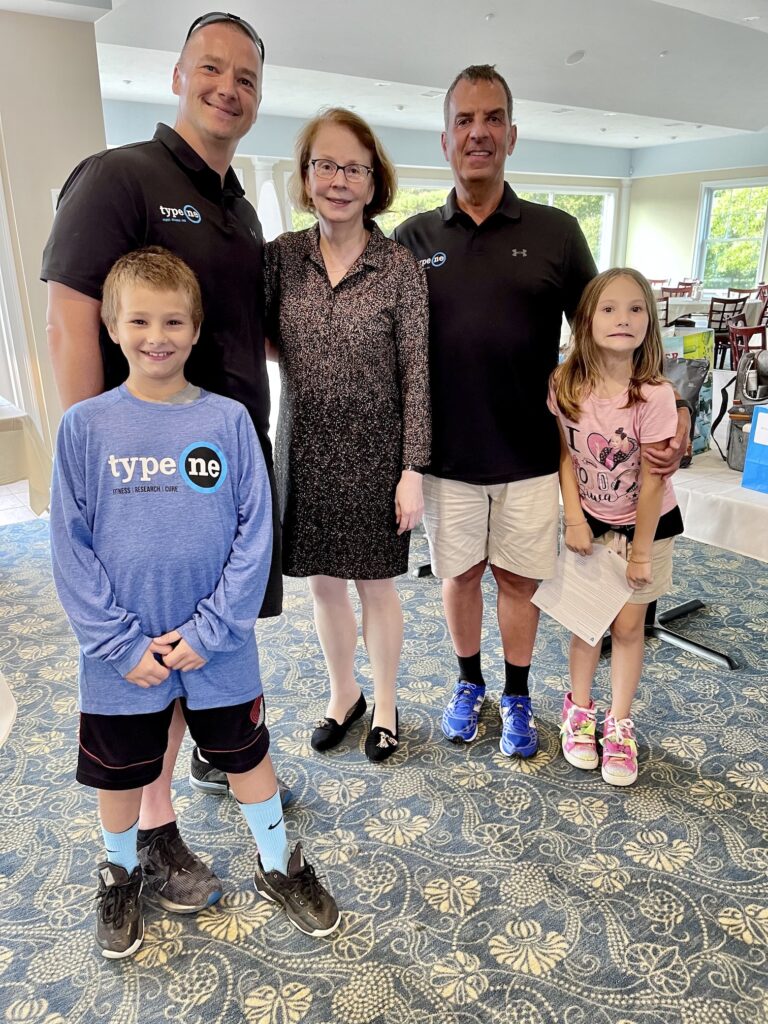 Following the tournaments, tennis players and golfers gathered for cocktails, hors d'oeuvres, raffle, silent auction and live entertainment with Ward Hayden of Ward Hayden & The Outliers acoustic live performance at Crosswinds Golf Club.

During the reception, special guest Dr. Denise Faustman, director of the Immunobiology Laboratory at MGH who oversees the Faustman Lab, talked about discovering and developing new treatments for type 1 diabetes to supporters.
"It's hard to develop a generic drug development program and that wouldn't be possible without the generosity and funding of Type One," said Dr. Faustman. "We've identified a drug, BCG (developed for TB in France 125 years ago) and are in advanced human clinical trials now – Phase 2 trials – and will start a subset of clinical trials in children soon. We sincerely appreciate the philanthropy and thank Type One, their sponsors and everyone for their efforts and donations."
Sponsor Support for the Event
Special thanks to Prime Automotive Group, Honey Dew, Walmart, Harbor One Bank, Glynn Electric, Santander Bank, Global Vision Advisors, Mercedes-Benz of Hanover, Old Derby Animal Hospital, Stiles Law, CBD Stat, Todd Wakefield, Baker, Big Y, Braverman & Barbadoro, P.C., Cask'n Flagon, Coldwell Banker Norwell, Flaherty Insurance, Inland Professional Corporation, Joyce & Associates, P.C., Myette's General Store, South Coast Dermatology, South Shore Orthopedics, Spaulding Outpatient Center, The Daley Family, The Donegan Family, Tracy Motors, David Sullivan, Hornstra Farms, Lululemon, Marathon Sports, Massage Envy, Michelle Dickinson, Red Sox, Stop and Shop, Total Wine, Trader Joe's, Two Roads Brewery, Unreal Snacks, and Wears Woody.
This year's Par For The Cure Golf Tourney and Serving For The Cure tennis tournament took the place of the annual Renegade Run Obstacle Course Race which had traditionally been held at Wompatuck State Park and Bare Cove Park in Hingham. To date, Type One Renegade Run events have generated over $100,000 in support of research at the Faustman Lab at MGH. The Faustman Lab is focused on discovering and developing new treatments for type 1 diabetes, a vaccine for the reversal of long-term type 1 diabetes and other autoimmune diseases. For more information on the Faustman Lab at MGH and type 1 diabetes, visit www.faustmanlab.org
To learn more and make a donation to Type One, visit https://typeonerenegaderun.com/donate/
About Type One
Type One, a 501(c)(3) nonprofit organization, recognizes a world free of type 1 diabetes and is dedicated to that future by raising public awareness and funds toward a cure through research. Type One was founded in 2012 by a group of South Shore residents to support their friend Tyson Sunnerberg, who was diagnosed with type 1 diabetes, an autoimmune disease in which a person's pancreas stops producing insulin, when he was 21 years old. On November 25, 2012, the first ever Renegade Run Obstacle Course Race was held raising awareness and funds toward a cure. Type One, Inc. is headquartered in Hingham, MA. Visit: https://typeonerenegaderun.com