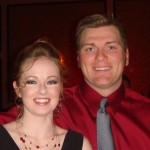 ALBUQUERQUE and TIJERAS, NEW MEXICO AND HIALEAH, FLORIDA… 
As longtime members of the Stage Hands Union in Las Vegas, Roger and Jamie Linn know it's the headlining act that draws the crowd. That's' why in selecting and ultimately purchasing a franchise, the couple made sure it had a star product to sell–Chunks O' Fruti® 100% natural frozen fruit bars—in a place where they want to be: Albuquerque, New Mexico.
"We've been researching franchise opportunities for a few years now with the goal of living on our ranch outside of Albuquerque in Tijeras and starting a family. The Chunks O' Fruti® franchise provides an opportunity we can run out of our home," said Linn. "Probably more importantly, it involves selling an all natural, healthy product that's good for you and that we believe in."
Created by the Natural Fruit Corporation (NFC),  Chunks O'Fruti® is 100% natural  and uses real fruit with no artificial coloring or flavoring–the fruit is spread evenly throughout each bar by a proprietary manufacturing process. It's also low calorie and there are more than 20 natural flavors to choose from. The franchise opportunity, administered by  NFC's sister company, Natural Fruit Franchise Group (NFFG), involves franchise owners selling Chunks O' Fruti® frozen fruit bars wholesale to retail outlets like local convenience stores, hospital cafeterias, schools, independent grocery stores, deli's, family style restaurants, swim clubs and other high-traffic locations.
In addition to Chunks O' Fruti® 100% natural frozen fruit bars, the Fruti franchise opportunity enables franchisees to also sell the enormously popular Mars ice cream products—like Twix, Snickers, M&Ms and Dove bars—on a wholesale basis to those same retail locations as a Mars distributor. 
Each franchisee is given an exclusive territory with a capacity for 1,000 freezers. Franchisees are then responsible for negotiating with merchants to place a Chunks O Fruti® freezer at the location, keeping those locations stocked and acquiring new locations.
"Beyond great products, this franchise offering gives the right person a growth opportunity they can tailor towards their lifestyle. You're not tied down to a physical, brick-and-mortar location or a 24/7/365 schedule," said Susan Morris, senior vice president for Natural Fruit Corporation. "We're extremely excited to have Roger and Jamie Linn in the Chunks O' Fruti® family and looking forward to big things from them in the Albuquerque area."
The Linns have been married since 2002. Prior to working as a projectionist in the Stage Hands  Union, Roger Linn was a quarter back for several Arena League football teams. Since 1998, Jamie, a Las Vegas native, has worked as an IT consultant in the legal industry as well as a graphics programmer for the Stage Hands Union.
"Working for a Stage Hands Union, you worked when other people said it was time to work. With the Fruti opportunity, we have some control of our own destiny," said Jamie Linn. "On top of all the great reasons to buy into this particular franchise opportunity, perhaps the most compelling one was the people. The people have been NFFG have been absolutely wonderful and made us even more ready to begin this new chapter of our lives."
Fruti franchises are available across the U.S. For complete information on Fruti 's franchise offering, please visit www.frutifranchise.com or contact Bruce Wildes, Acadia Business Advisors, LLC at 207 370 8210 or info@acadiabiz.com.
About Natural Fruit Corporation
Brothers Simon and Jorge Bravo Sr. founded Natural Fruit Corporation in 1985. Equipped with their vast backgrounds in food processing and production, the brothers set out to produce the highest quality, 100 percent natural, frozen fruit bars. Nearly three decades later, the company is still going strong, manufacturing more than 20 flavors of the Chunks O' Fruti brand products—100 percent natural with no added colors or flavoring. All flavors and color come directly from the fruit! Chunks O' Fruti brand products are Kosher-certified and gluten-free.
In 2009, Natural Fruit Corporation entered into an agreement for its distributors to offer the full line of Mars Ice Cream products, including Twix, Snickers, Dove bars and M&M brands. Natural Fruit Corporation began offering a revised franchise opportunity in 2010.
Fruti franchises are available across the U.S… For complete information on Fruti's franchise offering, please contact Bruce Wildes, Acadia Business Advisors, LLC at 207 370 8210 or info@acadiabiz.com or visit www.frutifranchise.com.
For information on Fruti products, please visit www.nfc-fruti.com.