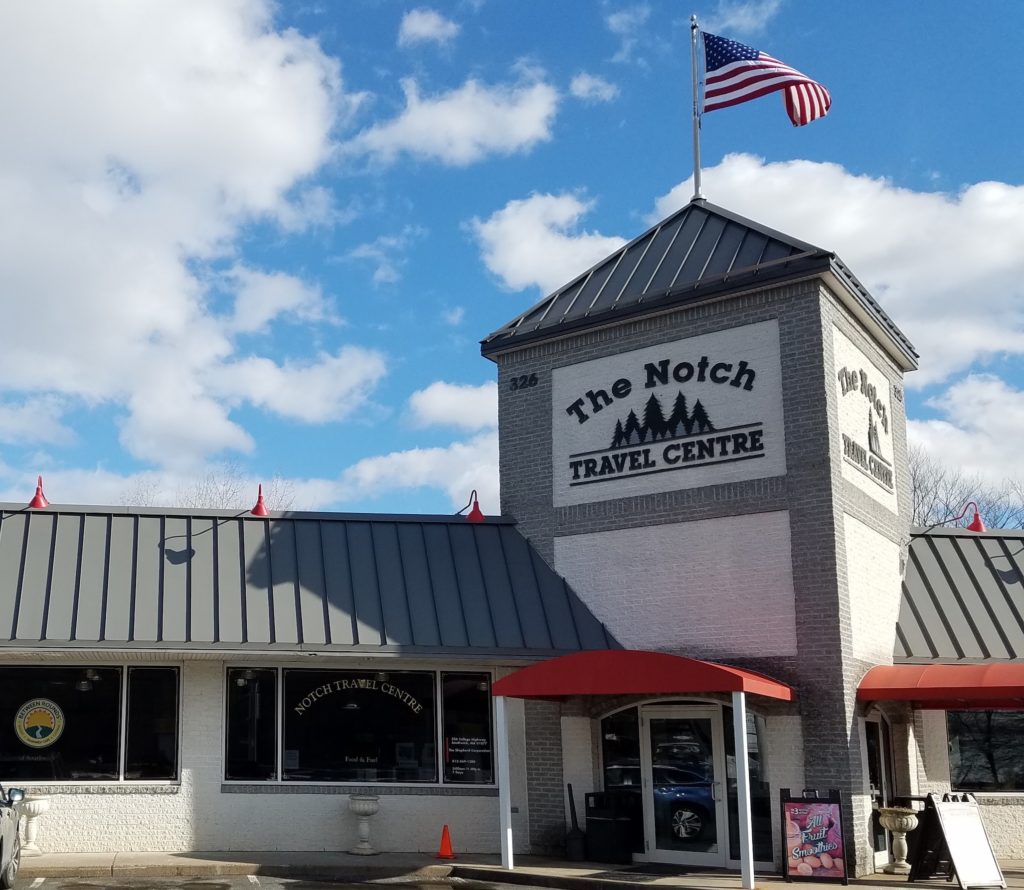 Between Rounds Bakery Sandwich Café, a growing fast-casual dining establishment with four locations in Connecticut, is pleased to announce a new location in Southwick, Massachusetts.
Between Rounds Bakery Sandwich Café's newest location will offer walk-in and drive-thru convenience at the renowned Notch Travel Centre, 326 College Hwy in Southwick, MA. Located three miles from the Granby, CT border, the Notch Travel Centre offers gasoline and diesel fuel, groceries and now a new Between Rounds Bakery Sandwich Café offering signature bagels, baked goods, breakfast and lunch sandwiches, wraps, salads, soups, specialty coffees and other beverages.
Construction for the new Southwick location began in September and has been completed. In addition to a drive-thru, the store offers comfortable seating for more than 25 in the dining area. It is Between Rounds' first Kiosk franchise extension into Massachusetts.
Southwick is Between Rounds' fifth location. The franchise is family-owned and operated by the Samuelsens. Between Rounds' Connecticut locations include their corporate headquarters in South Windsor, cafés at The Plaza at Buckland Hills in Manchester and at Vernon Circle Shopping Center in Vernon, as well as independently-owned Tolland store, adjacent to Citgo Express Gas Station.
"Diane and Craig Samuelsen, along with their family, are seasoned, successful family business owners who have been running the Notch Centre for nearly two decades. They are a great fit for our organization and we are absolutely thrilled about Between Rounds' expansion into Massachusetts," said franchisor Jerry Puiia.
Between Rounds has been in business for more than two decades and is the brainchild of Jerry and his brother Joe Puiia, who are Staten Island, New York natives. The Puiia hallmark is manufacturing and selling their own bagels, which sets them apart from other cafés.
Puiia continued, "The Notch Travel Centre celebrates Between Rounds' re-entry into Massachusetts. Two decades ago, we had four locations in Massachusetts – two in Springfield, one in Westfield and one in East Longmeadow. For years, people have asked 'When is Between Rounds coming back?' We're pleased to have an opportunity for reintroduction into this market as there hasn't been a bagel provider in the area for quite some time."
Franchise Opportunities Available
Between Rounds Kiosk franchise opportunities are now available in Massachusetts. In addition to the Kiosk franchise program, Between Rounds also offers a unique Area Developer Program that encompasses the operation of retail bakery sandwich café locations as well as a manufacturing commissary in a protected territory.
About Notch Travel Centre
For more information about the Notch Travel Centre, contact 413-569-1200 or visit http://notchtravelcentre.com.
About Between Rounds Bakery Sandwich Café
Founded in 1990, Between Rounds Bakery Sandwich Café is a unique bakery café and bagel shop renowned for their fresh, baked-on site bagels and baked goods as well sandwiches, wraps, salads, soups, specialty coffees and a unique line of giftware. Between Rounds offers patrons an upscale, fast-casual dining experience with free Wi-Fi.
Between Rounds locations include South Windsor, Vernon, Manchester and Tolland, CT and Southwick, MA and franchise opportunities are available. Corporate headquarters are located at 19A John Fitch Blvd, Route 5 in South Windsor, CT. For more information about their unique franchise offerings, contact (860) 291-0323 or visit https://betweenroundsbagels.com.