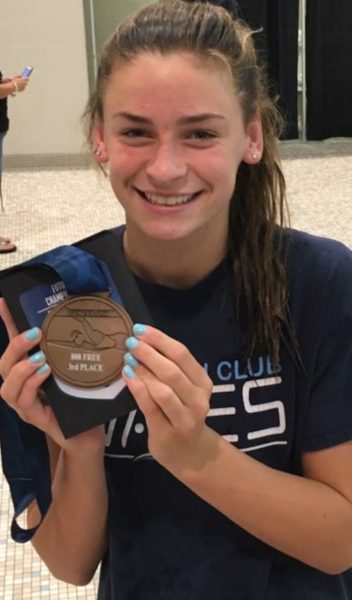 The Weymouth Club, an award-winning, family-friendly fitness, wellness and recreation facility catering to residents throughout the South Shore, is proud to announce that Emily Appleton, 15-year-old WAVES Swim Team phenom, has qualified for the Junior National Swim Meet, which will be held in Knoxville, TN, December 6-9, 2017.
Appleton, a sophomore at Cohasset High School, has been part of the Weymouth Club's Waves Swim Team since she was eight years old. Last year she made first sectional cut and quickly rose to make the Junior National cut. With huge improvement in times, she recently won all three events – 400, 800 and 1500 meter – in the grueling New England Senior Championship held at Brown University, which is the biggest New England swim meet for ages 14 and up.
Appleton went on to compete at the recent 2017 USA Swimming Futures Championships in Geneva, OH and captured third place in women's 800 freestyle with a time of 9:04.69. Emily added a 7th place finish in the 400 Free, and an 8th place finish in the 1500. Next, Appleton will head to the prestigious Winter Junior National Championship, which is the fastest meet for swimmers age 18 and under, and the highest level of competition preceding Olympic trials.
Weymouth Club's Head Swim Coach, Jack Folcarelli noted, "Not only is Emily an incredible athlete, she is an incredibly nice kid. At her age, to get to this level is a remarkable accomplishment."
Folcarelli, an American Swimming Coaches Association (ASCA) certified coach, who has had the distinction of being named the New England ASCA 2013 Age Group Coach of the Year, has worked with Emily and her teammates throughout.
He continued, "As a team we encourage every kid to reach their full potential. We follow the progression of New England and USA Swimming championship meets. USA Swimming Junior Nationals is the pinnacle for 18 and under athletes in the sport of swimming. We're very proud of Emily and can't wait for her to get there and compete."
Powerful WAVES
Weymouth Club's Aquatics Department offers a wide range of activities for all ages, from WAVES (Weymouth Aquatics Values Every Swimmer) Swim School and WAVES Swim Team, to water fitness, Masters swim program, Red Cross programs, warm water therapy pool and more. To learn more, visit www.weymouthclub.com/aquatics.
About the Weymouth Club
The Weymouth Club is a family-friendly health, fitness, wellness and recreation center, owned and operated by the Goldman family since 1988. Named 2017 Reader's Choice Award "Regional Favorite GOLD" and "#1 Choice in Weymouth", the Weymouth Club caters to members and guests from across the South Shore, providing an environment that accommodates individuals of all ages and fitness levels in common pursuit of living a healthy and energetic life.
With 200,000 square feet of space which includes enclosed pools and tennis courts, the state-of-the-art club boasts a wide variety of programs and services ranging from nutrition, fitness, group exercise, and mind/body (yoga, Barre, Pilates), to aquatics, tennis and more. The Weymouth Club is a member of Genavix Wellness Network, a health and fitness facilities partnership focused on empowering individuals and families to take control of their wellness. The club's "HealthyCare 90-Day Commit to Get Fit Program" is a network program, and may be partially covered by select health insurance carriers.
The W Spa, the Weymouth Club's own full-service day spa for both members and non-members is featured on-site, along with Bay State Physical Therapy and Milton Chiropractic satellite locations. The Weymouth Club is located at 75 Finnell Drive in Weymouth MA 02188. For more information, call 781-337-4600 or visit www.weymouthclub.com.