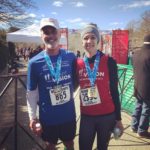 The executive team of the Talking Information Center (TIC), a nonprofit reading service based in Marshfield, MA, which broadcasts 24 hours a day to visually impaired and otherwise print impaired listeners throughout Massachusetts, has joined Team With A Vision for the 2017 Boston Marathon and will race to raise awareness and funds for the Massachusetts Association for the Blind and Visually Impaired (MABVI).
Team With A Vision is comprised of runners with visual impairment and their sighted guides who take part in events all around the country to raise funds and awareness for MABVI. This year is Team With A Vision's 24th year running the Boston Marathon.
Anna Dunbar, Assistant Executive Director of TIC, is an ambassador runner for Team With A Vision and so far has raised over $7,000 for MABVI.
"I am beyond thrilled to be a part of Team With A Vision for the 2017 Boston Marathon and to raise funds for such a wonderful and important organization," said Dunbar. "TIC provides 24/7 programming 365 days a year for the visually impaired or otherwise print disabled, and TIC's mission and MABVI's mission align perfectly. TIC and MABVI work to provide the support to help individuals with visual impairment live independent lives."
Jim Bunnell, TIC's Executive Director, along with Chase Fleming, a Northern California Tech Rep based in San Francisco, will be Team With A Vision sighted guides for Jennifer Herring, a legally blind computer engineer from Hamilton, New Jersey. Herring, who has completed 13 Boston Marathons and 28 marathons total, has been running with Team With A Vision for the past several years.
"With Team With A Vision, I get to meet people with similar problems with vision," said Herring. "Team With A Vision is a wonderful community that comes together every year and helps others. It's great to be a part of, and to help people in the same situation and share the same passion. The guides are great and often become friends."
This year, there are 120 Team With A Vision members, comprised of 30 athletes who qualified in the visually impaired division, as well as their sighted guides and individuals who have qualified, registered and want to give meaning to their miles.
"We are so honored to have so many involved with and supporting Team With A Vision. It is beyond hard to hit the qualifying time for the Boston Marathon and we're always grateful to those who want to guide," said Andrea Croak, Coordinator of Team With A Vision and Manager of Special Events and Corporate Sponsorships at MAB Community Services. Croak has previously run the Boston Marathon and volunteered as a sighted guide. This year, in addition to organizing the team, she is supporting another runner in training.
Croak continued, "There are so many factors that affect visually impaired individuals, from depression to a high rate of unemployment to socialization. Team With A Vision enables them to socialize and engage in the community. With the right support anything is possible."
TIC Live Broadcast at the Boston Marathon
Tune in to get up-close and personal with Team With A Vision runners and their sighted guides at the 2017 Boston Marathon via TIC's live radio broadcast of the event. TIC producer John Shea will take listeners from the Hopkinton starting line to the finish line in a narrative of the race that will include interviews with a number of Team With A Vision runners.
About Team With A Vision
Team With A Vision is part of the 2017 Boston Athletic Association Boston Marathon Official Charity Program. For the last 24 years members of Team With A Vision have toed the starting line on Marathon Monday and shown the world that with the right support anything is possible. Their international team of blind and sighted runners race to support individuals throughout Massachusetts living with vision loss. Their efforts allow the Massachusetts Association for the Blind and Visually Impaired to deliver professional, peer and volunteer support to over 1,100 individuals each year, giving them the support they need to live with dignity and independence.
All funds raised support MABVI's statewide network of vision rehabilitation services, which include 14 low vision clinics, 34 low vision support groups, and 300 volunteers matched 1:1 with blind individuals.
About the Massachusetts Association for the Blind and Visually Impaired (MABVI)
The Massachusetts Association for the Blind and Visually Impaired (MABVI) is the oldest social service agency in the country providing services to individuals who are blind or visually impaired. Their mission is to work with individuals with vision loss to eliminate barriers and create opportunities. For more information about MABVI and Team With A Vision, visit www.mabcommunity.org/mabvi/home.
About TIC
TIC is a proud member of the International Association of Audible Information Services (IAAIS), and is the hub of the Massachusetts Reading Network, broadcasting to all of Massachusetts as well as southern New Hampshire and Connecticut. TIC operates with the help of more than 600 volunteers statewide, broadcasting newspapers, magazines, books, special consumer information, medical and stock market updates, jobs, sports, supermarket specials, voting guides, community newspapers, and television programs. TIC also offers cultural programming such as old-time radio drama, theater, and poetry. Two of TIC's newest shows include Veterans Voice Radio and Veterans Voice Story Hour, which are specifically geared toward military veterans and their families.
TIC programming may be accessed several ways: via live audio stream at http://www.ticnetwork.org; by utilizing a specially tuned radio receiver; through AudioNow by calling 712-832-7025 from a home or cell phone; or by smartphone app. Listeners with smartphones may download the free TIC app by typing "Talking Information Center" in Apple or in the Google Play store for Android devices.
In 1977, Ed Perry, the founder of radio station WATD-FM in Marshfield, MA, donated his Subsidiary Carrier Authorization signal for use as the first radio reading service in New England. Operating similarly to other broadcast networks, TIC has affiliates throughout the state of Massachusetts that provide inserts of local news and information that is of interest to listeners in their area. The Executive Office of Elder Affairs and the Massachusetts Commission for the Blind oversee TIC, which is located at 130 Enterprise Drive, Marshfield, MA 02050. For more information visit www.ticnetwork.org or call (781) 834-4400.