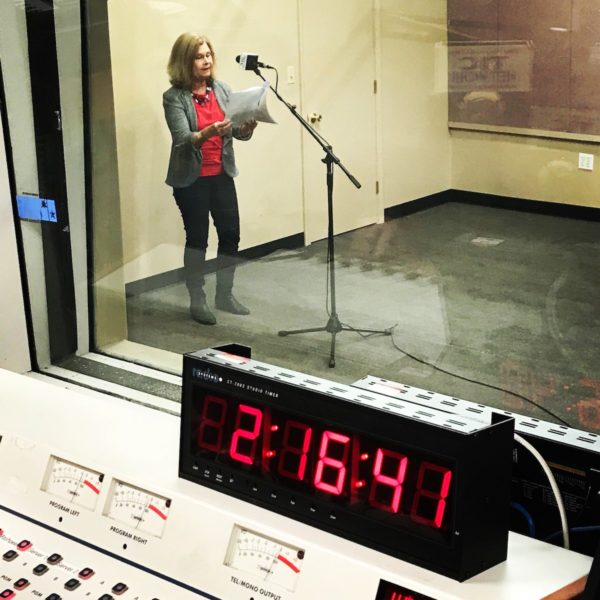 As the weather heats up, so does the drama at the Talking Information Center (TIC), where a brand new production of three radio plays will air this summer!
Listeners will be able to tune in to TIC, the award-winning nonprofit reading service which broadcasts 24-hours a day to thousands of visually impaired and otherwise print impaired listeners throughout the state, on Thursday, June 29, 2017 at 7 p.m. for the live broadcast of "Sorry, Wrong Number", the legendary thriller by Lucille Fletcher, which premiered in 1943.
TIC Radio and Podcast Players, comprised of 45 TIC volunteers who auditioned for parts, will perform each radio play in front of a live studio audience backstage at TIC. "Sorry, Wrong Number", the first in the series, features a talented cast of 12: Dianne Legro, Bill Zirpolo, Steve Virta, Joan Dowd, Maryellen Walsh, Norman Blair, Karen Ferrari, who are all Marshfield residents; Loretta Patterson of Duxbury; Joanne Salines of Hanover; Susan Romboldi (who is blind and will read the script in Braille), Bob Churchill and Richard Bodurtha of Plymouth.
TIC's Producer John Shea and Eric Joseph, Executive Director of The Bay Colony Shakespeare Company (BCSC), will lead the all-volunteer radio drama production. Shea and Joseph worked together on TIC's successful production of "Shakespeare's Twelfth Night", which was performed by BCSC actors. Joseph, who is a resident of Cohasset, has a BFA in Drama from Syracuse University and has produced over forty PIE (Performance In Education) touring Shakespearean performances and faculty workshops. Prior to BCSC, Joseph worked for Clear Channel Entertainment in Manhattan on 22 Broadway shows as Senior Vice President of Sponsorship and Marketing, including "The Producers", "Movin Out" and "Billy Crystal's 700 Sundays".
"Since radio drama is all vocal, casting is done by pitch. There has to be variety in the tone of voices so that each character is distinct," explained Joseph. "The one requirement for cast members? They have to be a volunteer at TIC."
No tickets will be sold to TIC's Radio Drama production, but donations may be made in support of it. Businesses that wish to support this production may become part of the show through unique underwriting messages. Title and break sponsorships are available.
"The goal of this new programming is to bring live theater to those who might not have access to it otherwise due to accessibility, transportation or financial issues and to bring our audience of over 30,000 listeners fresh, new and exciting content," said Jim Bunnell, TIC's Executive Director. "We are delighted to work with renowned director Eric Joseph and our amazing volunteers to bring the thrill of live radio drama to listeners."
To become a sponsor, contact TIC's Anna Dunbar at (781) 834-4400.
For more information about BCSC, visit  www.baycolonyshakespeare.org.
The Hub of the Massachusetts Reading Network
TIC is a proud member of the International Association of Audible Information Services (IAAIS), and is the hub of the Massachusetts Reading Network, broadcasting to all of Massachusetts as well as southern New Hampshire and Connecticut.
TIC programming may be accessed several ways: via live audio stream at http://www.ticnetwork.org; by utilizing a specially tuned radio receiver; through AudioNow by calling 712-832-7025 from a home or cell phone; or by smartphone app. Listeners with smartphones may download the free TIC app by typing "Talking Information Center" in Apple or in the Google Play store for Android devices.
In 1977, Ed Perry, the founder of radio station WATD-FM in Marshfield, MA, donated his Subsidiary Carrier Authorization signal for use as the first radio reading service in New England. Operating similarly to other broadcast networks, TIC has affiliates throughout the state of Massachusetts that provide inserts of local news and information that is of interest to listeners in their area. The Executive Office of Elder Affairs and the Massachusetts Commission for the Blind oversee TIC, which is located at 130 Enterprise Drive, Marshfield, MA 02050. For more information visit www.ticnetwork.org or call (781) 834-4400.