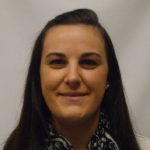 Old Colony Elder Services (OCES), the non-profit agency proudly serving older adults and individuals with disabilities throughout greater Plymouth County and surrounding communities, has appointed Krista Walker as Nutrition Program Supervisor.
In her role at OCES, Ms. Walker will supervise OCES' nutrition sites, managers and drivers throughout the greater Plymouth area to ensure daily meal delivery fulfillment. Ms. Walker is a Certified Health Education Specialist (CHES) and holds a Bachelor's degree in Health Education from Bridgewater State University, and a Master's degree in Nutrition Education from Framingham State University.
Previous to OCES, Ms. Walker worked as a receptionist and also provided nutrition education consultations at Cape Cod Rehab Physical Therapy and Fitness in Osterville. For one year prior to that, she was a membership coordinator at Cape Cod YMCA.
A native of Abington, Ms. Walker resides in Falmouth.
About OCES
Founded in 1974, OCES proudly serves greater Plymouth County and surrounding communities. OCES is a private, non-profit organization headquartered in Brockton with a second office in Plymouth. OCES is designated as one of 26 Aging Services Access Points (ASAPs) in the Commonwealth of Massachusetts. OCES' mission is to support the independence and dignity of elders and people with disabilities by providing essential information and services that promote healthy and safe living. The agency has 235 employees and operates more than 15 programs serving older adults, individuals with disabilities, their families and caregivers. For more information call 508-584-1561 or visit www.ocesma.org.