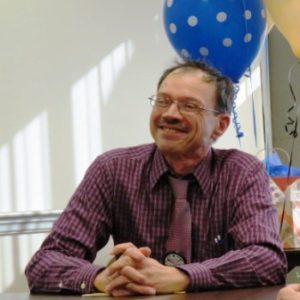 Old Colony Elder Services (OCES), the non-profit agency proudly serving older adults and individuals with disabilities throughout greater Plymouth County and surrounding communities, announced that Jim Mileski has recently retired after 38 years of dedicated service.
Mr. Mileski began his career at OCES on December 5, 1978 when he joined 25 co-workers at the agency. He was hired as a Case Manager, but shortly after, in fulfillment of an agency need, Mr. Mileski was asked to oversee multiple OCES contracts with service providers. He accepted that challenge and served in the capacity of Contracts Manager until his retirement.
In January, OCES' Board of Directors recognized Mr. Mileski for his 38 years of dedicated service and contributions as a valued employee. A retirement party for Mr. Mileski was held at OCES' Brockton office on Main Street. While Mr. Mileski knew about the party, he did not know that he would be presented with a professional chef's hat as a part of the festivities, as a nod to his passion for baking and sharing of his delicious creations with his colleagues.
Brenda Correia, Coordinator for Elder Community Support Programs at the Commonwealth of Massachusetts' Executive Office of Elder Affairs (EOEA) attended Mr. Mileski's retirement party and presented him with a Certificate of Excellence on behalf of EOEA for his 38 years of dedicated service in the community.
"Jim came on board in our early days, just four years after our founding, and has been an integral part of our team ever since," explained Nicole Long, CEO. "Jim's efforts have truly contributed to our success, and we thank him for his dedication to OCES for the past 38 years. Congratulations Jim, and we wish you a very happy and healthy retirement!"
About OCES
Founded in 1974, OCES proudly serves greater Plymouth County and surrounding communities. OCES is a private, non-profit organization headquartered in Brockton with a second office in Plymouth. OCES is designated as one of 26 Aging Services Access Points (ASAPs) in the Commonwealth of Massachusetts. OCES' mission is to support the independence and dignity of elders and people with disabilities by providing essential information and services that promote healthy and safe living. The agency has 235 employees and operates more than 15 programs serving older adults, individuals with disabilities, their families and caregivers. For more information call 508-584-1561 or visit www.ocesma.org.