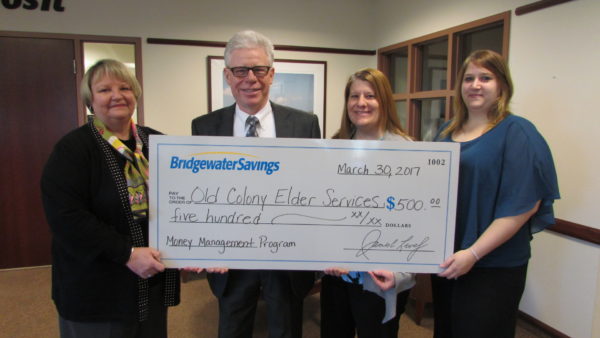 Old Colony Elder Services (OCES), the non-profit agency proudly serving older adults and individuals with disabilities throughout greater Plymouth County and surrounding communities, has recently received a $500 donation from Bridgewater Savings Bank for their Money Management Program (MMP).
April is Financial Literacy Month and Bridgewater Savings Bank is supporting, and striving to create greater awareness about OCES' MMP, which provides fundamental money management assistance to older adults, enabling them to maintain independence.
OCES' MMP assists older adults and individuals with disabilities with managing their household finances. The MMP serves individuals with limited income who are at risk of losing their independence due to their inability to pay rent, food and utility bills on a timely basis. MMP volunteers help these individuals by establishing a budget for them, organizing their mail, helping them write checks to pay their bills and balancing their checkbook.
Joseph W. Mitchell, Senior Vice President of Bridgewater Savings Bank is an active volunteer for many organization including OCES' MMP.  His dedication to community service represents one of the core values of Bridgewater Savings Bank.
"We are very grateful to Bridgewater Savings Bank and Joseph Mitchell for their support of OCES' Money Management Program," said Nicole Long, CEO.
How to Help
The need for MMP services continues to grow. The National Council on Aging (NCOA) reports that over 25 million Americans aged 60+ are economically insecure – living at or below 250 percent of the federal poverty level ($29,425 per year for a single person). This population struggles with rising housing and health care bills, diminished savings, and job loss.
There are a number of ways to support OCES' MMP: By making a donation to the program (visit ocesma.org for details); by volunteering to be an MMP volunteer; or by referring a consumer in OCES' service area who might need some help.
MMP volunteers are needed in all 23 towns that OCES serves. Volunteers receive extensive training from OCES and must adhere to strict confidentiality guidelines. MMP volunteers make home visits at least once a month to help keep track of program participants' income and expenses.
To learn more about OCES' MMP, visit www.ocesma.org.
About OCES
Founded in 1974, OCES proudly serves greater Plymouth County and surrounding communities. OCES is a private, non-profit organization headquartered in Brockton with a second office in Plymouth. OCES is designated as one of 26 Aging Services Access Points (ASAPs) in the Commonwealth of Massachusetts. OCES' mission is to support the independence and dignity of elders and people with disabilities by providing essential information and services that promote healthy and safe living. The agency has 235 employees and operates more than 15 programs serving older adults, individuals with disabilities, their families and caregivers. For more information call 508-584-1561 or visit www.ocesma.org.