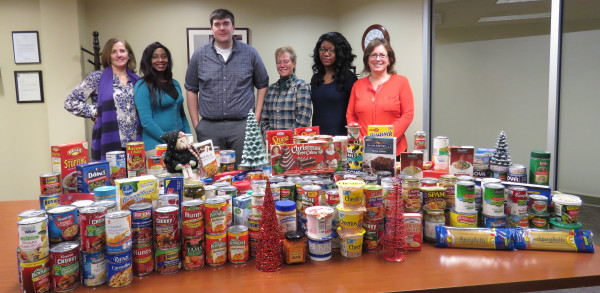 Old Colony Elder Services' (OCES), the non-profit agency serving older adults and people with disabilities throughout the greater Brockton and Plymouth county area, recently held a Food Drive for three charities in their service area – My Brothers Keeper in Easton, Father Bill's & Mainspring in Brockton, and Plymouth Area Coalition for the Homeless in Kingston.
OCES' Food Drive was held among their 235 employees the week before Christmas. More than 300 non-perishable food items were collected and distributed among the three charities.
Every year, OCES holds a holiday food drive for a different organization in an effort to provide support to those most in need. Last year, OCES' donated more than 140 pounds of food to South Shore Community Action Council (SSCAC) in Plymouth.
To learn more about the three charities, visit their websites at www.plymouthareacoalition.org, helpfbms.org, and www.mybrotherskeeper.org.
About OCES
Founded in 1974, OCES serves 20 communities in Plymouth County as well as Avon, Easton and Stoughton. OCES is a private, non-profit organization headquartered in Brockton and designated as one of 27 Aging Services Access Points (ASAPs) in the Commonwealth of Massachusetts. OCES' mission is to support the independence and dignity of elders and people with disabilities by providing essential information and services that promote healthy and safe living. The agency has 235 employees and operates more than 15 programs serving older adults, individuals with disabilities, their families and caregivers. For more information call 508-584-1561 or visit www.ocesma.org.