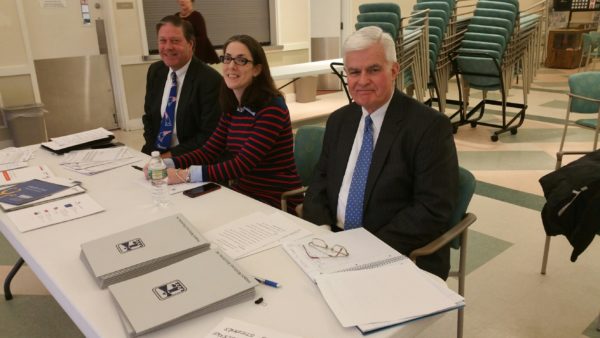 Harbor Mortgage Solutions, Inc. of Braintree, MA, a family-owned, residential mortgage company and housing wealth management authority, has recently announced a speaker's bureau.
Harbor Mortgage founder George Downey, CRMP, a forty-year veteran in the Massachusetts real estate and residential mortgage business, leads a team of housing wealth management consultants.  The team's specialty is consulting to professional advisers and homeowners on the various methods home equity (housing wealth) can be utilized and coordinated with financial management to achieve greater results and extend retirement security.
The speaker's bureau will include a selection of legal, financial, accounting, insurance, in-home care, and home modification specialists attuned to the special needs and challenges confronting aging homeowners. Scheduled events will be conducted in a moderated panel discussion format.  Both public and private presentations will be offered at various venues including Councils on Aging (COAs), 55 plus communities, Chambers of Commerce, fraternal organizations and business groups throughout Eastern Massachusetts. Each event will include two to four panelists depending on the chosen subject and venue.
Potential topics include:
Aging in place –Affording and planning for it
Factoring home equity into your retirement plan – Why and how it benefits you
Caregiving and other services to help seniors age with grace in their own homes
Living safely at home – Modifications for better and safer mobility
The Harbor Mortgage team is looking to partner with other professional service providers for the senior community who are focused on what seniors need to know to age in place with regard to financial planning for staying in the home, utilizing outside caregiving and other services, and modifying the home in order to remain living independently.
"The purpose is to introduce and advance the concept of increasing financial wealth through the inclusion of active management of housing wealth, often the largest but most underutilized asset.  The concept has been proven successful through numerous research studies and addresses the growing retirement crisis confronting aging Americans," explained Downey, who serves on the Board of Directors of the National Reverse Mortgage Lenders Association (NRMLA) and is also a member of Financial Planning Association (FPA) of Massachusetts.
He continued, "By bringing together an expert team of mortgage, financial, elder law, and senior service professionals, we are able to impart essential information to older homeowners about how they can safely utilize housing wealth and continue to remain living independently within their own homes as they age."
Most recently, Harbor Mortgage speaker's bureau presented at Cohasset Elder Affairs and Duxbury Council on Aging. To arrange a speaker's bureau presentation, or to serve as an expert panelist, contact Harbor Mortgage at 781-843-5553.
Housing Wealth Management 
Harbor Mortgage Solutions, Inc. is a family-owned, residential mortgage company serving Massachusetts and Rhode Island. Recognized as a leading housing wealth management authority, Harbor Mortgage is dedicated to serving the unique home financing and often complex needs of senior homeowners, while also promoting those needs among consumers, professional advisors, state legislators and industry regulators.
Harbor Mortgage (NMLS #2846) is located in Braintree, MA. For more information, contact 781-843-5553 or visit harbormortgage.com.